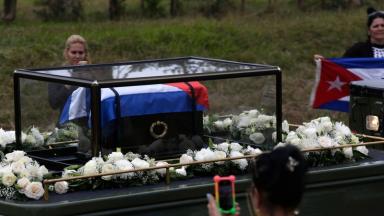 Cuban's have laid their long time leader to rest; Fidel Castro's ashes were laid at Santiago De Cuba in a private ceremony, television stations don't have rights to air this .
Read Also About Former Cuban Leader Fidel Castro' Death 
Castro's cremated remains will be entombed next to Marti's castle-like mausoleum in Santiago's Santa Ifigenia cemetery.
Busts of Marti appear everywhere in Cuba, Havana's international airport is named after him, and there is a towering monument to him in Havana's Revolution Square.
But Fidel Castro will not receive similar treatment. Raul Castro announced on Saturday that, respecting Fidel's wishes, no streets, plazas nor public buildings will bear Fidel Castro's name, and no statues nor monuments will be built in his honor.