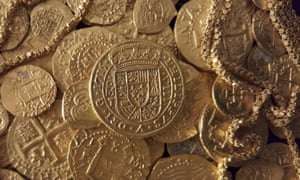 A family made the discovery of a lifetime off the coast of Florida after getting a catch of a million dollars worth of Gold.
Diver Eric Schmitt was diving off the Florida coast when he discovered the sparkly treasure from a 1715 Spanish shipwreck.
The find included 51 gold coins of various denominations and 40ft (12m) of ornate gold chain, said Brent Brisben, whose company, 1715 Fleet – Queens Jewels LLC, owns the rights to the wreckage.
Brisben said he timed the announcement to coincide with Friday's 300th anniversary of the sinking of 11 galleons brought down by a hurricane off the coast of Florida, as the convoy was sailing from Havana to Spain.
Eric Schmitt found the artefacts in 15ft (4.5m) of water off Fort Pierce, approximately 130 miles (210km) north of Miami.
The Spanish convoy's manifests indicated the ships carried cargo valued today at about $400m (£257m), of which $175m had been recovered, Brisben said.
His company bought the rights to the site in 2010 from heirs of treasure hunter Mel Fisher. The firm allows others, including the Schmitts, to search under subcontract agreements.