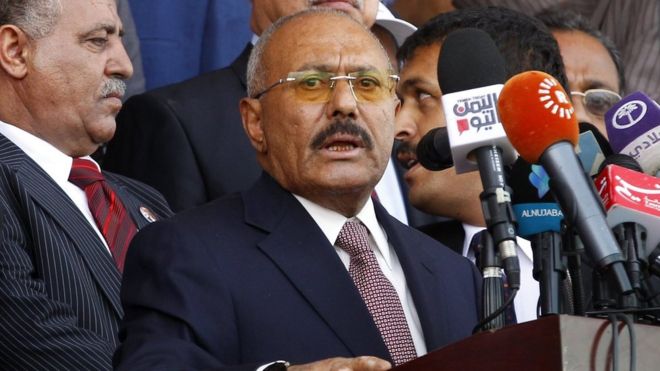 Former Yemeni President Ali Abdullah Saleh has been killed amid fighting between his supporters and their former allies, the Houthi rebel movement.
Analysts said Saleh's death would be a huge moral boost for the Houthis and serious blow to the Saudi-led coalition that intervened in the conflict to try to restore the internationally recognized government of President Abd-Rabbu Mansour Hadi.
Sources in the Houthi militia said its fighters stopped Saleh's armored vehicle with an RPG rocket outside the embattled capital Sanaa and then shot him dead. Sources in Saleh's party confirmed he died in an attack on his convoy.
Unverified footage of his bloodied body lolling in a blanket circulated, just days after he tore up his alliance with the Houthis following nearly three years in which they had jointly battled the Saudi-led coalition.
In a televised speech on Monday, Houthi leader Abdul Malik al-Houthi hailed Saleh's death as a victory against the Saudi-led bloc, congratulating Yemenis "on this historic, exceptional and great day in which the conspiracy of betrayal and treason failed, this black day for the forces of the aggression".
He said the Houthis, who hail from a Shi'ite Muslim sect, would maintain Yemen's republican system and not pursue a vendetta against Saleh's party.